Get & Stay Healthy

Regular treatments help you stay balanced.
Regular chiropractic treatments help you stay adjusted through the stresses of daily life.

Heal Chronic Headaches

You don't have to be in constant pain
Chronic pain can be treated in a multitude of ways. Jan's holistic approach helps you heal pain you thought was permanent.

Voted Best Chiropractor
in Santa Cruz!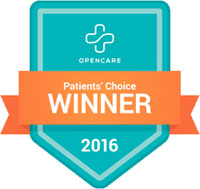 Congratulations to Janet Zeff's Practice on being the on top
Chiropractor in Santa Cruz
ranking of 2016.
Verified by
Opencare.com
Testimonials

Teresa doing a handstand after an appointment with Jan.
"Feeling Great!"

My logo, designed by calligrapher Chungliang Al Huang, is the Chinese symbol for heart and healing. The circle represents the journey that the patient and doctor take together toward health and the oneness of the doctor patient relationship of one goal, one heart one effort toward health. It is colored red because in Chinese red is the color of transformation and fire. Anything that comes in touch with fire changes or transforms. It is my hope and belief that all who come in contact with the HeART of Healing Chiropractic Clinic will have the opportunity to experience lasting change in life style, health. wellness, and nutrition. The use of the color red is my attempt to connect the heart with health.
HeART of Healing Chiropractic Helps You Stay Healthy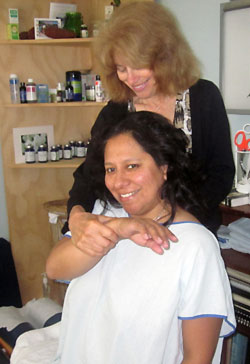 HeART of Healing Chiropractic offers patients a complete health care and wellness alternative which includes much more than traditional chiropractic adjustments. Dr.Jan utilizes many different chiropractic techniques as well as a variety of physical therapy modalities such as ultrasound, cold laser, and electrical stimulation. She is well trained in soft tissue techniques such as trigger point and myofascial release therapy. Other specialties include clinical nutrition, natural herbal and homeopathic medicines, sports medicine and rehabilitation, stress reduction, decision and life coaching and much more.
Dr. Jan has had great success with alleviating every type of back and neck pain,TMJ, and headaches, rotator cuff and extremity pain as well as sciatica. She has extensive expertise in pregnancy related problems and women's health, as well as stress and anxiety related conditions. She has helped patients to recover from automobile and work related injuries for over 26 years.
Dr Jan's fee structure is reasonable and she takes as much time as necessary with each patient in order to help restore optimal health and function.